CompanyMe E-Payroll and HR System
What's E-Payroll and HR System
A payroll system is software designed to organize all the tasks of employee payment and the filing of employee taxes. These tasks can include keeping track of hours, calculating wages, withholding taxes and deductions, printing and delivering checks, completing direct deposit, paying premiums to insurance carriers, and paying employment taxes to the government. Payroll software often requires very little input from the employer. The employer is required to input employee wage information and hours—then the software uses the information to perform calculations and deduct withholdings automatically. Most payroll software is automatically updated whenever a tax law changes and will remind employers when to file various tax forms.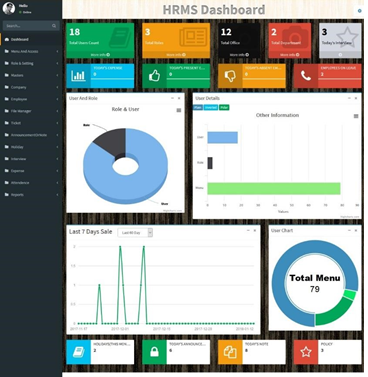 Features of System
Centralized Control
Payroll and HR System covers all your HR admin essentials. With just a tap or a click, you can find and edit employee records, review and authorize holiday requests, absences, and even discover useful insights about your workforce. .
Payroll Structure
Create your own payroll heads, specify your own formulae, and organize into multiple payroll structures. The flexibility and power of the payroll software allows you to be fully in control.
Reminders and Alerts
Payroll and HR System ensures you never miss another training deadline, license renewal, Passport, Visa, ID, Rent, birthday or benefit date and you can schedule events and system automatically send all alerts by E-mail / SMS / on mobile App.
Attendance Management
Attendance, Task, Project management allow you to create reports with just a click from information entered manually or through an attendance device without increasing your staff or budget.
Evaluation
Payroll and HR System evaluations module gives you the ability to create custom performance evaluations and self-scaling employee. Assessments are the key of success in a company that wants to be a leader in a short time .
Leave /Time off Management
Payroll and HR System support multi-site so you can configure the system to suit your local and international policies for vacations or absences. Implementation of the rules is related to the country (site) so system will calculate vacation / deduction of absence value automatically and send all notices for employees by E-mail / SMS / Mobile App .
Document Manager
CpmpanyMe HR makes it easy to create different document templates (Contracts, Appointment letters, Termination) and auto-export these documents from employee data and save it as PDF, archived and printing.
LOANS & ADVANCE
Fully automated loans and advance management. Payroll and HR System auto-organize repayments in installments. Recover loans and advances from salary.